This is an archived article and the information in the article may be outdated. Please look at the time stamp on the story to see when it was last updated.
A man faces the death penalty for the kidnapping and killing of an 11-year-old Inglewood boy nearly 30 years ago, and authorities revealed Wednesday that they believe the suspect did not act alone.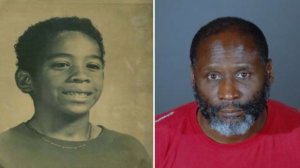 Edward Donell Thomas, 50, was arrested on Feb. 14 at his home in Pomona in connection with the disappearance of William Tillett.
Thomas faces a murder charge, along with a special allegation of kidnapping and lying in wait. The charges make him eligible for the death penalty, the Los Angeles County District Attorney's Office announced Wednesday. Thomas was also charged with being a felon in possession of a firearm, but Inglewood police did not elaborate on what he was on parole for.
William was walking home from Kew Elementary School in Inglewood on May 24, 1990 with a group of friends. He said goodbye about six blocks from his home when he was taken, according to the Los Angeles Times.
His family and friends never heard from him again.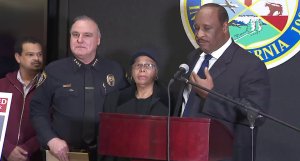 William's parents reported him missing after they returned home from work and he was not there, according to the Times.
About six hours later, William's body was found in a Hawthorne carport, officials said. Though there were no signs of trauma on his body, his wrists showed evidence that he had been bound. It was later determined that he had been strangled, the Times reported.
It is unclear what led to Thomas' arrest nearly 30 years later, but authorities said "advanced technology" played a role. Police also refrained from saying if there was any connection between the victim and suspect, and what the motive behind the crime was.
Thomas faces death or life in prison without the possibility of parole if convicted as charged.
Inglewood Police Chief Mark Fronterotta said during a news conference Wednesday that investigators believe Thomas did not act alone, but did he not elaborate on why they believe that.
Inglewood Mayor James Butts, who was deputy chief of police at the time William disappeared, said the crime affected the people of Inglewood.
"To this day, when that name was said, it resonated me," Butts said. "It affected this entire community that way."
William's brother, Herbert Tillett thanked Inglewood police investigators for their work on the case and for the arrest. He is hoping for closure.
"With us being so close, I just want to keep the momentum going and I just want to plead with the community to just come forward," Herbert Tillett said. "If anything jogs your mental rolodex from three decades ago, please contact (police)."
Inglewood police continue to investigate the crime, and anyone with information can call homicide detectives at 310-412-5246.