This is an archived article and the information in the article may be outdated. Please look at the time stamp on the story to see when it was last updated.
A man was charged in connection with a hit-and-run that killed a grandmother who was on her way to church last month, Los Angeles County District Attorney's Office officials said Thursday.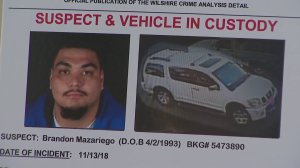 Brandon Rosendo Mazariego, 25, was allegedly driving an SUV on Budlong Avenue on Nov. 13 when he turned onto West 28th Street and hit Maria Asuncion Reynoso, 77, officials said in a news release. Reynoso was in a crosswalk a few miles from her home when she was struck and she died from her injuries.
Mazariego, who was apparently on his way back from dropping his kids off at school, didn't make an effort to stop after the crash, prosecutors said. Police arrested him two days after the incident.
On Thursday, Mazariego was charged with one felony count of hit-and-run driving resulting in another person's death, prosecutors said. The charge also includes allegations of his prior felony conviction of first-degree burglary in October 2016.
If convicted as charged, Mazariego will face a possible maximum sentence of eight years in state prison, prosecutors said. They recommend Mazariego's bail to be set at $125,000.
Mazariego is scheduled to be arraigned sometime Thursday.
Reynoso was described by her granddaughter as a charismatic storyteller who was well loved in the community.