This is an archived article and the information in the article may be outdated. Please look at the time stamp on the story to see when it was last updated.
The Oklahoma man accused in the fatal shootings of a Long Beach woman and her 4-year-old daughter will not face the death penalty if convicted, prosecutors announced Monday.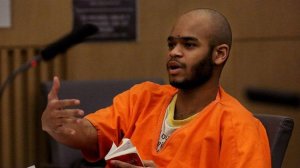 Brandon Colbert, 23, who appeared in court Monday for a hearing on whether he was competent to stand trial, collapsed after the proceeding, according to Greg Risling, a spokesman for the Los Angeles County district attorney's office. The competency hearing was postponed to May 30.
Prosecutors say Colbert, of Tulsa, Okla., hid behind a concrete sign before leveling a shotgun at Carina Mancera, 26, and Jennabel Anaya, 4, as they returned home from grocery shopping on Aug. 6, 2016. Colbert is accused of firing the blasts that killed the mother and daughter, before firing an additional shot at Mancera's longtime boyfriend, Luis Anaya.
The last shot missed, and Anaya was not injured.