This is an archived article and the information in the article may be outdated. Please look at the time stamp on the story to see when it was last updated.
A 29-year-old man was charged with murder Tuesday after allegedly driving drunk and ramming into the back of another vehicle in Santa Ana over the weekend, killing one person, prosecutors said.
Orange resident Jesus Segura Herrera was allegedly driving his black Acura TL with a blood alcohol content of .26 percent when he crashed into the back of a white Scion xD, sending it careering into the intersection of Grand and McFadden avenues in the early morning hours of last Sunday, Dec. 2, the Orange County District Attorney's Office said in a news release.
The incident occurred just after the light at the intersection had turned green, according to investigators.
Jorge Carrillo, one of three occupants of the small hatchback, was trapped in the vehicle and died at the scene, authorities said.
The other two individuals in the Scion — a man and a woman — were hospitalized, and one of them suffered a broken spine.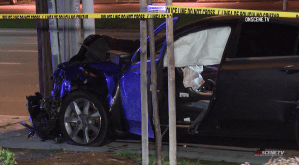 Video from the scene showed three mylar balloons bearing "happy birthday" messages, a plant that appeared to have lost its pot and a bottle of Modelo beer sitting just outside a rear door of the victim's vehicle.
That car sat in the intersection with significant damage to its front end, while Herrera's car had slammed into a pole on the side of the road.
While bystanders rushed to help those involved in the crash, Herrera is further accused of getting into an altercation with the good Samaritans, then getting back into his car and trying to flee.
The defendant is now facing charges of murder, driving under the influence of alcohol causing injury and driving with blood alcohol content of .08 percent or more causing bodily injury, the DA's office said.
Prosecutors are additionally seeking a sentencing enhancement for allegedly causing great bodily injury.
If convicted as charged, Herrera could face a maximum possible sentence of 15 years to life in state prison.
He was scheduled to be arraigned on Dec. 21 in Santa Ana.