This is an archived article and the information in the article may be outdated. Please look at the time stamp on the story to see when it was last updated.
A man has been charged with murder in the attack of a 70-year-old off-duty patrolman on New Year's Eve in San Bernardino, officials said Wednesday.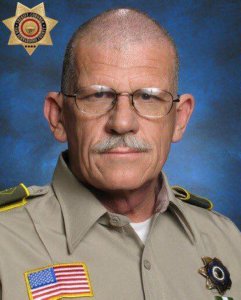 Alonzo Leron Smith, 30, allegedly struck Lawrence "Larry" Falce after a minor crash Sunday morning, causing the deputy's death.
Falce, a 36-year veteran with the San Bernardino County Sheriff's Department, was driving his personal vehicle on Kendall Drive and University Parkway around 10:50 a.m. when witnesses said he slowed down upon seeing at least one dog on the road.
This caused Smith to rear-end Falce's vehicle, San Bernardino police Chief Jarrod Burguan said in a news conference on Wednesday. Investigators said Falce exited his car to exchange information with the other driver.
Surveillance video provided by a nearby business captured the two speaking; less than a minute after they approached each other, the other driver punched the deputy in the head. Falce dropped to the ground and never regained consciousness.
The other driver left despite a witness's attempt to stop him, and he was not arrested until several hours later, Burguan said.
Falce died at the Loma Linda University Medical Center after being taken off life support Tuesday night, authorities confirmed.  Outside the hospital, dozens of law enforcement officers and personnel honored the deputy during a procession.
District Attorney Mike Ramos described Smith as a "career criminal" at Wednesday's news conference. Ramos said Smith had been in jail multiple times and previously went to state prison for street terrorism and sale of marijuana as an admitted gang member.
Smith was supposed to serve 12 years but was released after the charges were overturned because he acted alone instead of committing the crimes with another gang member, the district attorney said.
Further details of those cases were not immediately available.
Smith has been charged with murder, and the district attorney's office was working on adding sentence enhancements, Ramos said.
"I am sick as the D.A. of San Bernardino County having to deal with these people, especially when they take the life of one of our community members, our deputy," the district attorney said. "We're going to fight like hell to make sure that enhancement sticks."
Smith pleaded not guilty in court on Wednesday.