This is an archived article and the information in the article may be outdated. Please look at the time stamp on the story to see when it was last updated.
An ex-con with a lengthy and violent criminal history faces murder and weapon charges in connection with the fatal stabbing of a 62-year-old commuter on a Metro Gold Line train on Wednesday, authorities said.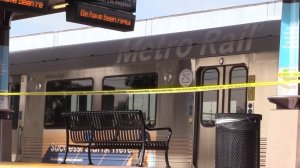 Peter Munoz, 51, of Commerce faces up to 86 years to life in prison if convicted as charged of murder, as well as carrying a dirk or dagger, the Los Angeles County District Attorney's Office said in a written statement.
He's accused of stabbing and killing Xuezhong Bao of Azusa as both men rode the Metro Gold Line west between the Azusa and Irwindale station, according to prosecutors and Los Angeles County Sheriff's Department investigators.
Authorities detained and arrested Munoz once the train came to a stop at the Irwindale station. Paramedics pronounced Bao dead at the scene.
No information regarding a possible motive has been released.
Munoz entered no plea during his initial court appearance on Thursday, and was instead scheduled for a mental competency hearing on Dec. 20 in the Alhambra branch of Los Angeles County Superior Court, court records show.
Munoz has at least eight criminal convictions between 1985 and 2016, prosecutors said. The convictions include drug offenses, making criminal threats and assault with firearm on a peace officer.
He was being held without bail pending the trial process, Los Angles County booking records show.