This is an archived article and the information in the article may be outdated. Please look at the time stamp on the story to see when it was last updated.
Authorities have arrested and charged a man accused of killing the brother of Los Angeles County Supervisor Mark Ridley-Thomas 36 years ago in South L.A., the district attorney's office confirmed Wednesday.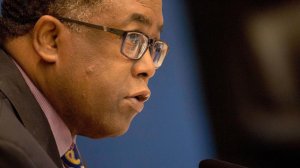 Michael Anthony Locklin, 61, was charged last week with the 1981 murder of Michael Thomas, according to a felony complaint filed in court. The complaint alleges Locklin killed Thomas during a robbery.
Greg Risling, a spokesman for the district attorney's office, confirmed the victim was Ridley-Thomas' brother.
Locklin is scheduled to be arraigned later this month, Risling said. Jail records showed he was being held without bail.
Read the full story on LATimes.com.