This is an archived article and the information in the article may be outdated. Please look at the time stamp on the story to see when it was last updated.
A driver was cited in Brea after being unable to fool officers by using a mannequin to gain access to the carpool lane, police said Thursday.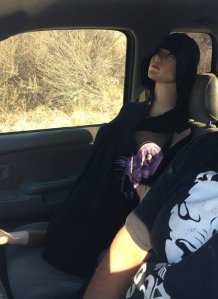 The man was spotted Wednesday by a motorcycle officer after his pickup truck suddenly veered out of the HOV lane in heavy 5 p.m. traffic on State Route 57 near Tonner Canyon Road, the Brea Police Department said.
When the officer drove up along the driver's open window to warn him to change lanes with caution, he was surprised to discover the passenger was actually a mannequin dressed in a hoodie, according to a post on the department's Facebook page.
When the officer cited the driver for driving solo in the carpool lane, he admitted to having used the mannequin for a while but said he would now relegate himself to sitting in traffic with the rest of commuters, police said.
The department did not release the carpool violator's name.