This is an archived article and the information in the article may be outdated. Please look at the time stamp on the story to see when it was last updated.
A man who claims he purchased the winning $63 million SuperLotto Plus ticket purchased in Chatsworth has taken legal action to be declared the winner as lottery officials continue their search for a last-minute winner.
The winning ticket for the Aug. 8 drawing was sold at the 7-Eleven store located at 20871 Lassen Street and whoever bought that ticket has 180 days to claim their prize, according to a California Lottery news release.
The ticket matched all of the winning numbers, 46-1-33-30-16, and the Mega number of 24.
If no one comes forward with the winning ticket by 5 p.m. Thursday, the winnings will be forfeited and redirected to California public schools, according to the news release.
Meanwhile, a Los Angeles County man said he has the winning ticket and has already turned it in to lottery officials who have rejected it as being "too damaged to be reconstructed," the Los Angeles Times reported.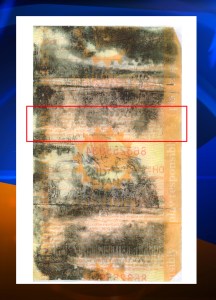 Brandy Milliner showed KTLA what he claims is the winning ticket, and said at one point he even got a letter from the California Lottery congratulating him on his win.
Later, Millner said he received another letter stating the ticket was too damaged and he would not be paid, the Times reported.
Millner also claimed lottery officials have refused to return the ticket. He has taken legal action in hopes a judge will declare him the winner, according to Times.
Whoever won the Aug. 8 drawing would have the option of taking a one-time payout of $39.9 million or the entire $63 million spread out over 30 years.
"If by some miracle you happen to find this extremely valuable piece of paper, the California Lottery urges you to sign your ticket in ink and get it to one of our Lottery District Offices," the news release stated.
The nearest office to the Chatsworth 7-Eleven where the winning ticket was sold is located at 16525 Sherman Way in Van Nuys.