This is an archived article and the information in the article may be outdated. Please look at the time stamp on the story to see when it was last updated.
Testimony got underway Wednesday in the trial of an Irvine man accused of conspiring with his wife to have an elementary school parent volunteer arrested and imprisoned by planting drugs in her car.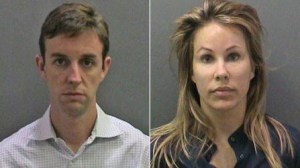 Kent Wycliffe Easter, 40, is accused of felony false imprisonment for his alleged role in the plot against Kelli Peters, a volunteer at Plaza Vista Elementary School.
His wife, Jill Bjorkholm Easter, 40, pleaded guilty last month to her part in the case.
Prosecutors said it all started in 2010 when Jill Easter became convinced that Peters, a volunteer at Plaza Vista Elementary School, was not properly supervising the boy.
The parents had previously sued Peters twice in 2010, though both cases were later dismissed, according to Orange County court records.
In retaliation, the Easters allegedly hatched a plot to have Peters arrested.
In court Wednesday, Kent Easter's defense attorney put the blame for the entire series of events on the defendant's wife.
During opening statements attorney Tom Bienert told jurors that Jill Easter planted the drugs in Peters' car without her husband's knowledge.
She then coerced her husband to call police, Bienert said.
If convicted, Kent Easter faces a maximum sentence of three years in prison.