This is an archived article and the information in the article may be outdated. Please look at the time stamp on the story to see when it was last updated.
Three hours after climbing up KTLA's iconic radio tower on the Sunset Bronson Studios lot early Wednesday evening, a man identified by police as "Chris" came down on his own after a woman who recognized him from church offered to help him.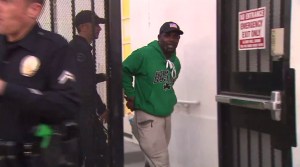 The man — wearing what appeared to be a green hooded Boston Celtics sweatshirt — began climbing the tower around 4:45 p.m., leading police to shut down Sunset Boulevard in Hollywood from the 101 Freeway west to Gower Street.
He was still on the tower, some 80 feet up, some two hours later. At one point, he appeared to be smoking and talking on a cellphone.
A crisis negotiation team and mental health team were responding, Los Angeles Police Department Detective Meghan Aguilar said.
"Of course, we're hoping that this will be peacefully resolved and we can get him to come down, but we do have the Fire Department on scene in case he does decide to jump," Aguilar said. "It does appear as though he's taking his time up there."
Just before 7 p.m., two fire engines extended their ladders toward the tower, and negotiators approached and began talking to the man. He spoke to them but turned and moved several feet higher up on the tower.
Three inflatable air cushions were placed at the base of the white metal tower.
Anita McMillan-Murphy saw the incident unfolding on television and realized she recognized the man from the First Baptist Church of Hollywood.
"I saw the picture and I said, 'I know him,'" McMillan-Murphy told KTLA.
She came to the scene, hoping she could help.
Police said McMillan-Murphy was critical in getting the man to climb down.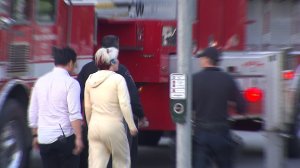 "When he was told that she was out here, he actually told our negotiators he would come down from the ledge he was on if she would come over and speak with him," Aguilar said.
McMillan-Murphy said she promised she would help him and give him a hug.
Once on the ground, the man was handcuffed and taken to the hospital for a medical evaluation.
"He's a good man, he's just got some problems," McMillan-Murphy said.
It was still not clear why he climbed the tower. He was not arrested and no charges were expected to be filed, Aguilar said.
Another individual climbed the structure in 2011, also prompting an emergency response.
The tower is at the corner of Sunset Boulevard and Bronson Avenue in the heart of Hollywood.
The 160-foot radio tower was in 2014 taken apart and relocated to that site — its original location — amid construction on the lot. It reappeared in March 2015. It sat for many years at Van Ness Avenue in Sunset Boulevard, hanging over the nearby 101 Freeway, a familiar site for commuters.
Originally erected in 1925, the tower is behind a fence.
KTLA's call letters have been displayed on the tower for more than six decades.
Very close image of the man who is on the @KTLA tower in Hollywood, so far refusing to come down. pic.twitter.com/7d7NQmbLOj

— Tara Finestone (@tarawallis) May 12, 2016
LAFD responding to a man climbing up the @KTLA tower at Sunset & Bronson. Video credit @ScottyDubsLA pic.twitter.com/EfCDTb3Yvj

— Nidia Becerra (@nidia_b) May 11, 2016
Climber on the KTLA tower. Sunset Blvd closed….Live report at 6pm. pic.twitter.com/qjnMPB1Nst

— Kacey Montoya (@kaceymontoya) May 12, 2016