This is an archived article and the information in the article may be outdated. Please look at the time stamp on the story to see when it was last updated.
A man suspected of killing the pregnant wife of a U.S. Marine testified in San Bernardino County Superior Court Tuesday that he strangled her to death in a fit of rage because he suspected that she had molested his daughter, according to a report.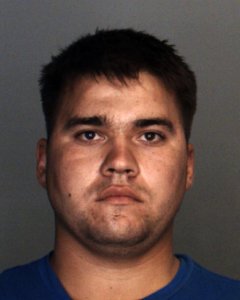 During his testimony, Christopher Brandon Lee, who is charged with murder in connection to the death of Erin Corwin, told the jury he wanted to come clean, the Desert Sun reported.
"I'm no longer scared to tell the truth. People have to know what I did," the former Marine said.
He also admitted to killing the 19-year-old woman in 2014, according to the newspaper.
Corwin and Lee were former neighbors and were alleged to have been having an affair, authorities have said.
Lee took Corwin — whose husband was stationed in Twentynine Palms — to the desert in June 2014. She thought the two would share a romantic evening that would include a marriage proposal, the Desert Sun reported, citing his testimony.
But when they ended up outside a mine shaft, Lee — who had been suicidal — wanted to try to kill himself, according to the report.
He said he was distraught over being denied a deployment, but was also angry because he believed Corwin had molested his daughter.
"I made the decision to kill her," he testified. "I was controlled by the anger. The hate I felt that day, it was something I never want to experience again."
He then admitted to strangling her for at least five minutes, then pushing Corwin down the mine shaft head first, according to the Desert Sun.
Corwin's body was discovered in the 140-foot mine shaft in a remote area on federal land outside of Joshua Tree National Park in mid-August 2014, roughly seven weeks after her disappearance sparked a frenzied and extensive search operation to locate the pregnant woman.
Lee was arrested in Alaska on Aug. 17, 2014, and charged with murder.
Prosecutors believe the former Marine killed Corwin in order to hide their affair, according to the Desert Sun.
In court, Deputy District Attorney Sean Daugherty said Lee did not admit his involvement until he he was in front of the jury, and chastised him for previously lying to authorities, according to the newspaper.
"You chose to do it in front of the jury," Daugherty said. "It's about you; you wanted attention."