This is an archived article and the information in the article may be outdated. Please look at the time stamp on the story to see when it was last updated.
A 60-year-old man was convicted of murder Thursday in the kidnapping, rape and killing of a mother of three in Palmdale back in 1978, the Los Angeles County District Attorney's Office said.
Neal Antoine Matthews was found guilty of first-degree murder in the slaying of a gas station attendant named Leslie Long, with jurors also finding him to be guilty of murder during a rape, murder during a kidnapping and murder during a robbery, the DA's office said.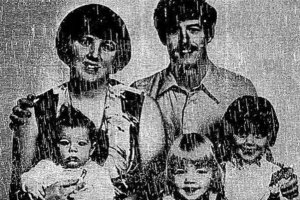 20-year-old Long was working the night shift at a Chevron gas station on Dec. 3, 1978  when she was robbed and kidnapped, authorities have said.
She was reported missing by a customer who found the gas station empty and called L.A. County sheriff's deputies, as KTLA previously reported.
When they arrived to the gas station, deputies found a safe on the floor open with coins scattered on the ground and Long's purse still in the office, authorities have said.  Behind the station, they found her car still parked there.
Three days after she disappeared, Long's body was found just off the 14 Freeway in Acton — the same location where investigators believe she was shot and killed, prosecutors said. An autopsy later revealed Long had also been sexually assaulted, authorities said.
Long was working at the gas station to pay for a new bedroom inside the home she shared with her husband and three children, the Los Angeles Times reported.
Matthews' apparent accomplice in the brutal killing is Terry Moses, 61, who pleaded guilty to Long's murder in January 2016.
Both men were linked to the crime by DNA evidence, prosecutors said, and charged with murder soon after in May 2015. At the time, Long's family posted a statement on Facebook requesting privacy from the media until any trials are completed and thanked local authorities for investigating and prosecuting the case.
"The family of Leslie Karen Long is very pleased with the recent progress in the case surrounding her 1978 kidnapping, assault, and murder," the post reads. "We are cautiously optimistic that though this is the beginning of a potentially long process; justice, and more importantly, closure are in sight."
Prosecutors previously said they had not yet decided if they would seek the death penalty for Matthews, as KTLA reported.
But a news release issued by the DA's office on Thursday said Matthews faces life in prison when he is sentenced on Nov. 6.
Moses also pleaded guilty to the 1976 murders of two other people, Carlton Goodwin and Michael Fuqua, and to the 1996 attempted murder of Kenney Guevara, the DA's office said.