This is an archived article and the information in the article may be outdated. Please look at the time stamp on the story to see when it was last updated.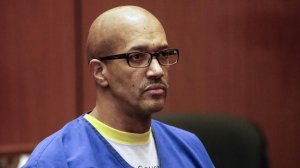 A man charged with setting a roaring blaze at a Los Angeles apartment complex that caused millions of dollars in damage, melted freeway signs and shrouded downtown in smoke, was sentenced to 15 years in prison on Monday, prosecutors said.
Dawud Abdulwali — who prosecutors allege set the fire in anger over fatal police shootings of African Americans in Ferguson, Mo., and other cities — pleaded no contest to one count of arson and admitted to using an accelerant to start the blaze, according to a statement issued by the Los Angeles County district attorney's office.
No one was injured in the fire, which destroyed a half-built structure at the apartment complex and shattered windows at the nearby headquarters of the city's Department of Water and Power.
In earlier court hearings, several people who knew Abdulwali, 57, testified that the blaze was a response to the fatal shooting of Michael Brown by a Ferguson police officer. Brown's death touched off protests across the country and jump-started a national conversation about police use-of-force against minorities.
Read the full story on LATimes.com.