This is an archived article and the information in the article may be outdated. Please look at the time stamp on the story to see when it was last updated.
An investigation was underway Sunday morning into a car crash in Santa Ana that left one man critically injured, police said.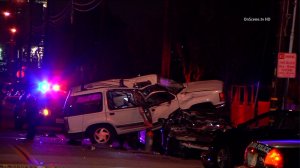 The crash occurred just before 11:30 p.m. on Saturday at the intersection of West Civic Center Drive and English Street (map), according to Santa Ana Police Department Cmdr. Eric Paulson.
Video from the scene showed a damaged white SUV resting on top of a dark-colored car.
An unidentified man was discovered unconscious at the site of the collision, Paulson said. It was unclear which vehicle he was in.
The man was transported to a local hospital where he was listed in critical but stable condition, according to Paulson.
No other injuries have been reported.
A tank that was "presumably" filled with nitrous oxide was found at the scene, Paulson said.
Authorities have not yet determined whether the tank played a role in the crash.
KTLA's Geoff Peters contributed to this report.