This is an archived article and the information in the article may be outdated. Please look at the time stamp on the story to see when it was last updated.
Gunfire at a Colton apartment complex early Friday left a 31-year-old man hospitalized in critical condition, authorities said.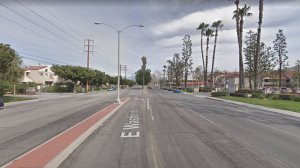 A report of "shots fired" about 12:30 a.m. first drew officers to an apartment building in the 800 block of East Washington Street, the Colton Police Department said in a written statement.
"One victim was located with an apparent gunshot wound," according to the statement. "The victim was transported to a local hospital and was listed in critical condition."
No information regarding a suspect description or motive was available.
Friday's attack was the second shooting in the area in two weeks.
Another man was shot and killed about 4:20 p.m. on Dec. 21 in the 1000 block of East Washington Street, police said.
The man was found suffering from multiple gunshot wounds and was taken to a hospital, where he was soon pronounced dead. No further details were released.
Anyone with information can reach Colton police at 909-370-5000.