This is an archived article and the information in the article may be outdated. Please look at the time stamp on the story to see when it was last updated.
A young man used a skateboard to fatally strike another man who was harassing him and other customers at a Santa Ana Starbucks on Tuesday, according to accounts from witnesses and police.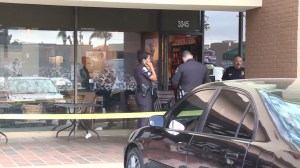 The incident occurred shortly after noon at a Starbucks in a strip mall near South Bristol Street and West MacArthur Boulevard, close to South Coast Plaza.
Two eyewitnesses told KTLA that a man was pacing back and forth, bothering coffee shop customers outside the Starbucks location, and then began punching the store's window. The man, who seemed to be on drugs, went inside and zoned in on a young skateboarder, the witnesses said.
The man approached the skateboarder aggressively, prompting the young man to stand up and whack the first man once in the head. The witnesses described the incident as self-defense.
"He just came abruptly into the store, looked at the kid, and said, 'Did I stutter?'" witness Jocelyn Martinez told KTLA. "He took a step forward towards the kid as if he were going to attack him, and that's when the kid hit him with the skateboard."
The man fell to the ground, and the skateboarder at first ran from the coffee shop.
"He did what anybody … would do when they feel attacked. They're going to protect themselves," Martinez said.
She described the scene as "really traumatizing."
The man died, Santa Ana Police Department Cpl. Anthony Bertagna said on scene.
Bertagna confirmed the incident involved a skateboard.
The man who was killed was 50, and the skateboarder was 20, police on scene said.
The young man stayed at the scene and was cooperative with police but was not immediately taken into custody.
The Starbucks was closed amid an ongoing investigation.