This is an archived article and the information in the article may be outdated. Please look at the time stamp on the story to see when it was last updated.
A man died and a boy was injured after a single-engine plane crashed at Whiteman Airport in Pacoima on Monday afternoon, officials said.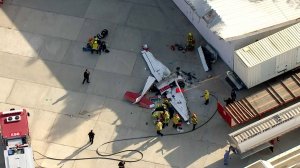 The crash happened about 5:09 p.m. at the facility located at 12653 Osborne St., according to an alert from the Los Angeles Fire Department.
As the Cessna 150L was taking off from the airport, it experienced an unknown problem, and an emergency was declared over the radio, Fire Department Capt. Erik Scott said. The aircraft then struck a building and landed upside down, the statement read.
Firefighters were able to extricate both victims who were on board. They were later identified by officials as a 12-year-old boy and a 60-year-old man.
Previously, the Fire Department identified the younger victim as being 13 years old. That may have been the case because a bulldozer crew said he was apparently celebrating his birthday on Monday.
The boy's father, who purchased the flying lesson as a birthday gift for his son, was at the airport and witnessed the crash, according to the crew.
The man—a flight instructor—suffered cardiac arrest and was given CPR before he and the boy were taken to nearby trauma centers, officials said.
The man was in grave condition but later died, a Fire Department spokesperson said. The juvenile was last listed in critical condition, according to the alert.
The Cessna crashed about a half-mile from the departure end of the runway, said Ian Gregor, a spokesman for the Federal Aviation Administration.
A small fire erupted following the crash, Scott said. The airport houses L.A. County Fire Department equipment and personnel, who also witnessed the crash and were able to quickly extinguish the flames in the engine compartment and render aid, he added.
As soon as the plane took off, it appeared to have some sort of mechanical problem, the fire captain stated. Personnel from the FAA and National Transportation Safety Board were investigating the incident, Gregor said.
The plane was registered in Sheridan, Wyoming, according to FAA records. However, KTLA's Tim Lynn confirmed that the aircraft was based at Whiteman Airport.
KTLA's Brian Day, Sarah Fenton and Meghan McMonigle contributed to this story.