This is an archived article and the information in the article may be outdated. Please look at the time stamp on the story to see when it was last updated.
A male bicyclist who was struck and killed in Whittier Monday morning by a female motorist was dragged hundreds of feet over the span of two streets before the driver sped away, leaving him to die in the middle of the road, police said.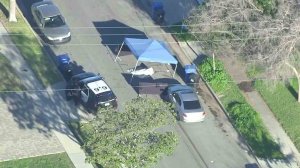 The deadly crash occurred in the 9100 block of Calmada Avenue around 7:30 a.m., according to Whittier Police Department Officer John Scoggins.
After the collision, the victim was dragged between 500 to 800 feet across two residential blocks, Scoggins said.
The victim's body was found on Dittmar Drive; his bike was left at Calmada Avenue, aerial video from Sky5 showed. The distance between the two locations is nearly 700 feet, according to Google Maps.
Scoggins said the driver had struck the victim on Calmada and turned onto Dittmar.
Five streets in the area were temporarily closed amid the ongoing investigation, according to police. Investigators remained at the scene into the early afternoon hours.
Authorities were not releasing the victim's name pending notification of his next of kin, a Whittier police news release stated.
Police believe he was obeying traffic laws when he was fatally struck.
"It appears he was following all the rules of the road, that he was obeying all rules of traffic," Scoggins said.
The driver is believed to be female, but authorities did not have a further description.
She was driving a newer model, white four-door Lexus with tinted windows and possibly black-and-white paper plates, according to a Whittier police news release. The car likely has front-end damage and a smashed windshield, Scoggins said.
Anyone with information about the hit-and-run crash was asked to call Officer Jensen at 562-567-9261, Officer Medina at 562-567-9259 or the department's crime tip line at 562-567-9299.
KTLA's Jennifer Thang contributed to this story.