This is an archived article and the information in the article may be outdated. Please look at the time stamp on the story to see when it was last updated.
LITTLEROCK, Calif. (KTLA) — Police on Thursday were looking for a gunman who allegedly killed a man and wounded a woman in an apparent family dispute in Littlerock.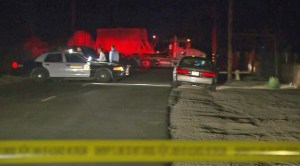 It happened just after midnight in the 37500 block of 82nd Street East, according to the Los Angeles County Sheriff's Department.
Deputies responded to a 911 call about shots fired.
The male victim was pronounced dead at the scene. The woman was transported to the hospital in unknown condition.
The suspected shooter, an adult made, was a relative, investigators said. He remained at large.
It was believed that the shooting followed some sort of argument.
"Several different things… There was something stolen, something missing, and that led to something," said Lt. Mike Rosson.
"Apparently this argument had gone on for several hours and then it resulted in this violence," he said.
Police did not immediately release the name of the suspected shooter or a vehicle description.
The relatives who were at the home were cooperating with investigators, authorities said.
Anyone with information was asked to contact the L.A. County Sheriff's Department's Homicide Bureau at (323) 890-5500.
Tips can also be made anonymously to Crime Stoppers by calling (800) 222-TIPS (8477), or online at http://lacrimestoppers.org.