This is an archived article and the information in the article may be outdated. Please look at the time stamp on the story to see when it was last updated.
A man was killed after being impaled by a fence in front of his East Hollywood home Wednesday morning in an incident that police described as an accident.
The victim was in a tree 20 feet from the ground when he fell and landed on a "pointy" fence in the 500 block of North Berendo Street around 3:30 a.m., according to Sgt. Melvin Gamble with the Los Angeles Police Department's Rampart Division.
The man had climbed up the tree to retrieve a jacket before falling on the fence, LAPD Capt. Brian Pratt said hours after the gruesome discovery was made.
The fence went clear through the left side of his face and exited out the right side, Gamble said.
There wasn't a lot of blood at the scene, and investigators believed he likely died from internal bleeding, the sergeant stated.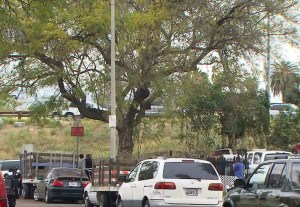 The victim was later identified by Lt. David Smith of the Los Angeles County coroner's office as 30-year-old Edwin Ochoa.
He died four days after his birthday, according to Smith.
Officers found Ochoa when they responded to a call of a possible prowling suspect in the area, Gamble said.
The report likely came in as a result of the way the man rested against the fence, LAPD Lt. Michael Mabie clarified. It was later confirmed that he died in front of his own home.
A dozen beer cans were found at the scene.
"I think there was a party earlier at the house that evening … but was unable to determine any type of level of intoxication at this time," Pratt said.
The death was believed to be accidental, according to police.