This is an archived article and the information in the article may be outdated. Please look at the time stamp on the story to see when it was last updated.
Authorities were investigating a chain of events that ended with a man being fatally shot by Azusa police on Sunday afternoon, according to the Los Angeles County Sheriff's Department.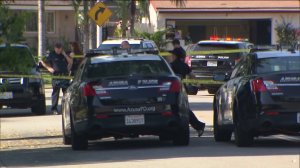 Shortly before 1 p.m., officers from the Azusa Police Department responded to the 500 block of East Lee Drive after receiving a report that a person with unknown injuries was acting in a bizarre manner, a news release from the Sheriff's Department stated.
The caller indicated the person was trying to break into a home, according to the release.
Sheriff's Lt. Holly Francisco later said dispatchers also received a 911 call from a relative of the man who said he was "acting insane." The man evidently lived in the home next door to the one he was trying to enter.
When officers arrived, a neighbor informed them that they heard a female screaming inside the residence.
The officers entered the home and located the man. At some point, they opened fire, hitting the man suspected of breaking into the home, according to the release.
Although authorities have not stated what exactly prompted the officers to fire their weapons, a woman at the scene told KTLA her grandfather witnessed the entire confrontation and said the man yelled at police to shoot him prior to being struck by gunfire.
"He saw police officers come in because they were called to the fact there was a … break-in over at a neighbor's house," Shanice Corralego said. "He was with my cousin at the time, and when he saw the person that broke in, yelling at the cops, to shoot him, shoot him, and then try to run away. And then they shot him three times."
The man — identified by sheriff's officials only as a 24-year-old Azusa resident — was rushed to the hospital where he was pronounced deceased.
It was not known whether the man was armed.
No officers were injured in the incident, which was being investigated by Azusa police and the Sheriff's Department.
Anyone with information is asked to contact the sheriff's Homicide Bureau at 323-890-5500.
Those who would prefer to provide information anonymously have been urged to contact Crime Stoppers by dialing 800-222-8477, texting the letters TIPLA plus a tip to 274637, or by using the website http://lacrimestoppers.org.