This is an archived article and the information in the article may be outdated. Please look at the time stamp on the story to see when it was last updated.
Two men have been arrested on suspicion of murder in a Hollywood shooting death that was witnessed by many onlookers, police said Monday.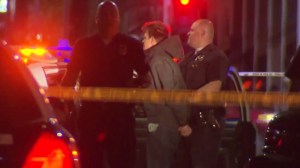 The shooting, which left an unidentified man in his 50s dead, occurred just before midnight Sunday in the area of Hollywood and North Cahuenga boulevards.
Witnesses told police that a gunman approached the victim after smashing multiple car windows, demanded money and then shot him "numerous times," according to LAPD Lt. John Radtke.
Two men fled and were taken into custody after an off-duty police officer gave chase.
The suspects were identified by police late Monday afternoon as Troy McVey, the 22-year-old alleged shooter, and his alleged accomplice, Colby Kronholm, 21.
Both were being held on $1 million bail on suspicion of murder, police said. The men were new to California and had come from Maine, detectives said.
Detectives believed the smashed car and man's shooting death were separate incidents. The two men were smashing windows before they approached the man, police said.
Witness Danielle Pace said she heard two gunshots followed by several more.
"I heard somebody scream, 'Give me my money,'" Pace said.
The victim, an African-American man between the ages of 55 and 60 years old, was rushed to a hospital where he was later pronounced dead, according to LAPD Sgt. Lewis. He was described as a transient, and his identity was not released.
One witness, Taylor Dawson, told KTLA he was finishing up a shift at 3Dog Cantina, a restaurant located in the area, when he saw shots fired outside around midnight.
"We heard a commotion. We watched a guy shoot about six times into an African-American male," Dawson told KTLA. "The guy just drops and they took off."
Dawson, who was in a soundproof building at the time of the incident, said he didn't hear anything before the shooting.
"It just struck us out of nowhere … It was just all of a sudden. We watched a guy shoot a man," he said.
An off-duty LAPD officer who was in the area at the time observed the shooting and began following the shooter, Radtke said. Police initially said two white men in their 20s were taken into custody for questioning in connection with the shooting.
Police were investigating whether the shooting was linked to a robbery or drug deal, but said it was too early to tell what the motive for the killing was.
A perimeter was set up in the area of Selma and Wilcox avenues in the early morning hours while police continued their investigation into the circumstances surrounding the shooting.
KTLA's Justin Burton, Alberto Mendez, Anthony Kurzweil and Mike McGregor contributed to this report.
More video: