This is an archived article and the information in the article may be outdated. Please look at the time stamp on the story to see when it was last updated.
A 28-year-old homeless man died after being struck by a hit-and-run driver and a MTA bus in Van Nuys over the weekend and police are looking for the person who left the scene.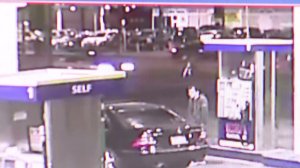 The incident was reported just before midnight Sunday when a pedestrian was crossing in the middle of the street near the intersection of Sepulveda Boulevard and Vanowen Street as he was trying to catch a bus, Los Angeles Police Department Detective Bill Bustos said.
The man was struck by a silver four-door sedan with tinted windows heading east on Sepulveda. He fell in the path of a bus heading north and was struck again.
Bustos described the scene as "horrific."
The bus driver stopped and remained at the scene during the investigation. The driver of the sedan stopped shortly after the crash, walked back to the scene, but then left, surveillance video shows.
The victim was pronounced dead at the scene. He was identified as John Yonko and described as homeless by the Los Angeles County coroner's office.
The hit-and-run driver is described as being about 5 feet 8 inches tall. Authorities believe the vehicle has damage to the front grill, hood and windshield.
Bustos explained that the driver had the right of way at the time of the crash.
"Unfortunately that driver chose to leave and now we're investigating a felony crime," Bustos said.
Anyone with information about this collision is asked to contact Bustos at 818-644-8021, or Detective L. Fuentes at 818-644-8029.
A reward of up to $50,000 is available to anyone who provides information leading to an arrest and conviction.
The victim's sister created a GoFundMe page to fund her brother's burial. The page stated Yonko was the eldest brother to seven siblings and leaves behind a daughter. His sister said in an email to KTLA that Yonko was not homeless.
KTLA's Erin Myers and Nidia Becerra contributed to this story.