This is an archived article and the information in the article may be outdated. Please look at the time stamp on the story to see when it was last updated.
One of at least 10 people who were hospitalized after eating nacho cheese from a Sacramento-area gas station has died, state health officials said Monday.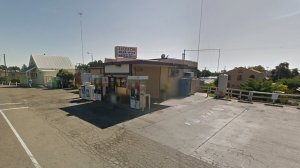 The San Franciso County coroner's office said the victim was a 37-year-old man, Martin Galindo-Larios Jr., according to the Associated Press.
The California Department of Public Health (CDPH) declined to release further information on the victim or nine remaining patients, citing privacy concerns. The time of and circumstances surrounding the man's death were unclear.
All 10 contracted botulism after eating "prepared food, particularly nacho cheese sauce," from the Valley Oak Food and Fuel gas station in Walnut Grove, about 25 miles south of Sacramento, the Sacramento County Department of Health and Human Services said in a May 10 statement.
One woman told KTLA sister station KTXL that her sister, Lavinia Kelly, was hospitalized after putting the nacho cheese sauce on some Doritos chips on April 21.
Theresa Kelly said her sister was in intensive care and could barely speak, breathe or open her eyes. Although she's expected to recover, doctors are unsure how long it will take.
"It's really scary," Theresa said. "I've never seen my sister not have function of her body or be able to communicate, and I've never seen my sister on tubes or anything like that."
The store was ordered to cease all prepared food sales on May 5, and on May 8 a state public health officer seized four bags of the cheese sauce, an inspection report shows.
Officials have since tested the product and confirmed it contained the toxin that causes botulism. The same toxin was found in the patients, CDPH said.
Since May 8, the gas station has been permitted to resume sales of prepacked foods.
Foodborne botulism is spread through ingesting food that has been contaminated through not been properly processed or stored, according to health officials. The illness is caused by a nerve toxin produced by a specific type of bacterium, and cases are rare.
While botulism can be fatal, the CDPH said only about 5 percent of patients die.
CNN Wire contributed to this report.