This is an archived article and the information in the article may be outdated. Please look at the time stamp on the story to see when it was last updated.
Officials shot and killed a man early Sunday morning after he fired on police and SWAT officers throughout an hourlong pursuit that ended in Cypress Park, authorities said.
Officers part of the LAPD's gang unit recognized the man from an Oct. 30 assault with a deadly weapon situation and began pursuing him around 11:45 p.m. Saturday, Los Angeles Police Department Sgt. Frank Preciado said.
It was unclear where the pursuit began. LAPD's Hollenbeck division, which covers L.A.'s Eastside, first responded with SWAT officers later assisting.
The man, driving a blue pickup truck and armed with a sawed-off shotgun and handgun, shot at officials throughout the pursuit, LAPD Sgt. Nguyen said. No officers were hit.
Gunfire was exchanged at three to five different locations, Preciado said.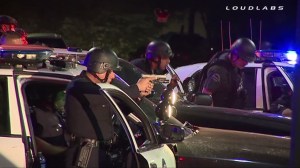 The man also allegedly threw beer cans.
At one point, police and SWAT officers attempted to end the pursuit using spike strips, but the man was able to continue driving at a slow pace.
The pursuit ended around 2 a.m. when officials used a PIT maneuver near the intersection of Huron Street and Cypress Avenue in Cypress Park (map).
Once the vehicle stopped, the man remained in the truck and pointed the shotgun at officers, at which point they shot and killed him, Preciado said.
Huron Street remained closed between West Avenue 28 and Cypress Avenue as of 6 a.m. The closure was expected to remain in place for several hours.