This is an archived article and the information in the article may be outdated. Please look at the time stamp on the story to see when it was last updated.
A man was killed after a tree fell on him while he was talking to a neighbor in East Los Angles Saturday morning, authorities said.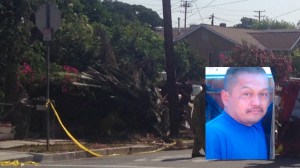 The incident occurred at the corner of Gage Avenue and Dozier Street (map) shortly after 8:30 a.m., Art Marrugo with the Los Angeles County Fire Department said.
The man was pronounced dead at the scene, according to Marrugo.
Authorities have not confirmed the man's identity, but family identified the man as Tony Calderon, a 49-year-old resident of East Los Angeles.
They added that Calderon was the father of a 7-year-old son.
A neighbor told KTLA that Calderon said "hi" to her right before the tree — which was located on her property — fell on him.
"All my neighbors came out and we were pulling away at the branches to get to him," said Rose Cordova. "I was yelling his name, calling him and calling. No response."
It was not immediately clear what prompted the tree to fall, but the fire department responded to the scene after receiving a a call of downed power lines around 8:30 a.m.
Southern California Edison was working to fix the power lines, authorities said.
"Tony was a great man. A lot of people loved him," said Peter Gonzalez, the victim's brother.
"I don't want this to happen to anyone else. … It's a life that can't be given back," Gonalez added.
KTLA's Erin Myers and Tim Dechant contributed to this report.