This is an archived article and the information in the article may be outdated. Please look at the time stamp on the story to see when it was last updated.
A 33-year-old man was fatally struck by car Sunday morning after being attacked at a San Bernardino gas station, authorities said. A 30-year-old woman who was with the man was injured.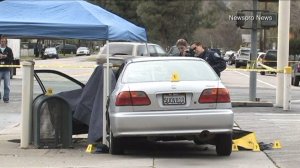 The two victims had driven a silver Honda Civic to get gas at an Arco station in the 100 block of of West Highland Avenue (map) when the incident began about 11:36 a.m., according to a news release from the San Bernardino Police Department.
Two attackers approached the man, who was outside the car, and called to him by his street name, the Police Department said. After he got into the car to leave, the attackers forced their way into the vehicle and struck the man and woman.
The male victim then moved the Honda in reverse before closing the driver's-side door, police said. As the car was moving, the man fell out of the vehicle and was pinned between it and several steel posts used to protect a water valve.
The attackers fled south on North Mountain View Avenue.
The male victim died at the scene, the statement said. The woman, identified as Simi Valley resident Kimberly Contreras, was taken to St. Bernardine's Hospital. She was later released.
The motive for the attack was unknown. There was no indication that it was gang-related, said police Lt. Dan Gomez.
Anyone with information is asked to call Detective William Flesher at 909-322-5734 or Sgt. Carl Williams at 909-693-6665.