This is an archived article and the information in the article may be outdated. Please look at the time stamp on the story to see when it was last updated.
A use of force investigation is underway Monday after a suspected prowler died following an encounter with police in South Los Angeles the day before.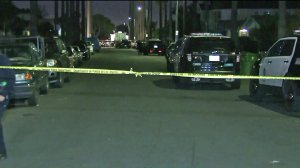 The incident was reported about noon Sunday when police received a radio call about a possible prowler in the 4400 block of Towne Avenue.
Responding officers located and identified the man who had been the subject of that call, according to Los Angeles Police Department Detective Meghan Aguilar.
While officers were talking to the man and trying to take him into custody, he became agitated and police used non-lethal force on him, Aguilar said. She indicated a Taser and beanbag rounds were used in the attempt to subdue the individual.
The man was taken to a hospital where he later died, though the cause of death remains unclear.
No gunshots were fired during the incident by either the man or officers, according to Aguilar. She had no information on whether the subject was armed or not, but stated she believed that a weapon has not been recovered at the scene.
It was not immediately known what prompted police to use force on the individual.
Authorities have not yet formally released the man's name, but his sister identified him as 25-year-old Jose Chavez.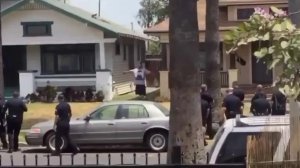 The sister, who did not want to be named, was standing nearby when the incident transpired Sunday. She captured part of it on her cellphone camera.
She told KTLA her family had once lived in the neighborhood and Chavez, who had just been released from prison four days prior, had returned to visit some friends.
The woman admitted that her brother was under the influence of drugs -- possibly crystal meth -- at the time of the police encounter.  But she said her brother was not trying to cause anyone harm.
"I don't know what happened here. They said that he tried to break into a home. And I know it's not true cause I know him," Chavez's sister said. "I know how he is, I know he won't do nothing like that cause he knows everybody here. He didn't have to die cause of this."
LAPD's Force Investigation Division is looking into the circumstances of the man's death.
"This is standard protocol," Aguilar explained. "Any time someone is in custody of the Police Department and dies while they are in our custody, Force Investigation Division would complete this type of investigation."
The officers were wearing body cameras and they were activated during the encounter, she added. The video is being reviewed by detectives as part of the investigation.