This is an archived article and the information in the article may be outdated. Please look at the time stamp on the story to see when it was last updated.
A 60-year-old man died and a woman was injured in a Tujunga apartment fire late Saturday, the Los Angeles Fire Department reported.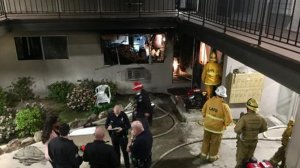 The blaze was reported about 10:55 p.m. at 7053 Greeley Street and found the fire in a first-floor apartment.
Firefighters were able to extinguish the flames in about 16 minutes, but the victim was found dead in the kitchen, Capt. Erik Scott said.
He has been identified as Jesse Arellano.
A woman was also found with minor burn injuries and smoke inhalation, Scott said.
Smoke alarms were found in the apartment, but it is unclear if they were functional. The building did not have sprinklers, but officials said those are optional.
The cause and of the fire is under investigation.