This is an archived article and the information in the article may be outdated. Please look at the time stamp on the story to see when it was last updated.
A man died early Friday morning, nearly four weeks after being discovered suffering from a gunshot wound near a Marina del Rey parking lot, according to the Los Angeles County Sheriff's Department.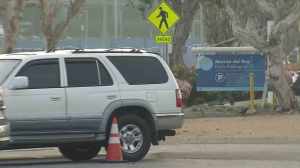 The man was 45 years old the day he was found suffering from a gunshot wound to his torso area just after noon near Panay Way and Via Marina on Sunday, March 20.
He died around 4:22 a.m. on Friday at the Ronald Reagan UCLA Medical Center.
The man has not been identified.
No arrests have been made in connection to the incident, and on Friday the Sheriff's Department said there was no information available on the shooter.
Officials initially said the gunman was believed to be in a dark-colored vehicle.
The victim was lying in a bush and bleeding from his chest and groin area when he was first discovered by a person driving in a parking lot.
It was not known when or where he was shot and additional information was not made available.
Anyone with information was asked to contact the Sheriff's Department's Homicide Bureau at 323-890-5500.