This is an archived article and the information in the article may be outdated. Please look at the time stamp on the story to see when it was last updated.
A man who told authorities he often dresses as Zorro and appears on Hollywood Boulevard was detained at Los Angeles International Airport moments before false active shooter calls prompted panic, evacuations and flight delays at the airport Sunday night.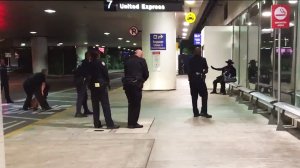 Airport police responded at about 8:40 p.m. to reports of a masked man in the Terminal 7 lower arrivals public area that was dressed in black and had a sword, according to a news release Monday from Los Angeles World Airports.
Believing the sword may be real, officers detained and questioned the man.
Video shot by Twitter user Sam Macon showed Airport Police officers approaching the costumed man with weapons drawn.
"He was detained briefly last night ... once we made the determination that the sword he had was plastic he was released," said Assistant Chief Dave Maggard with the Airport Police Department.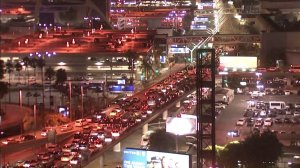 The man told authorities he arrived at the airport to pick up a passenger and that he often works on Hollywood Boulevard dressed as Zorro, said Maggard.
The man's identity was not released and it was unclear why he arrived at the airport in costume.
Immediately after the incident, Airport Police began receiving calls of an active shooter in Terminal 8, according to the news release.
The news quickly spread through the terminals and additional calls were made, including some who reported to hear gunshots.
"People are on their phone reading, saying that there's an active shooter and everybody's just freaking out," one visitor at LAX said.
Passengers and employees began evacuating the airport by running onto the airfield, prompting officials to initiate a ground stop on the south runway shortly after 9 p.m., according to the news release.
Three people were hospitalized after suffering minor injuries when a crowd stampeded out of the airport,  said Officer Rob Pedregon.
Airport Police then temporarily closed the upper departures and lower arrival level roads, causing traffic to back up around the airport.
A review of surveillance video revealed that no shots were fired and the ground stop was lifted by 9:30 p.m.
It was unclear if the Zorro incident directly led to the shots fired calls, but Airport Police were still investigating the events.
Passengers were eventually rescreened and allowed back into the terminals after explosive-detection K-9 units cleared all impacted areas, which included Terminals 1,4,6,7 and 8, according to the news release.
Two flights were canceled, 27 arriving flights were diverted to other airports and about 281 flights were delayed during the 30-minute ground stop, according to L.A. World Airports.
By early Monday morning, only one diverted flight had yet to arrive at LAX, according to the news release.