This is an archived article and the information in the article may be outdated. Please look at the time stamp on the story to see when it was last updated.
Investigators on Friday were trying to determine how a man fell from a second-story balcony during a rock concert in Hollywood.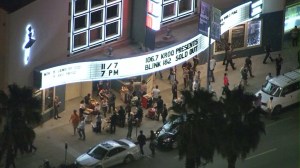 It happened during a sold-out Blink-182 show at the Hollywood Palladium Thursday night.
The man reportedly fell about 15-feet to a lower level of the auditorium and was rushed to the hospital for treatment.
There was no official word on the extent of his injuries.
Blink-182 was playing the second of two sold-out shows in as many nights at the Palladium, the Daily News reported.