This is an archived article and the information in the article may be outdated. Please look at the time stamp on the story to see when it was last updated.
A man was shot and killed after he allegedly used a knife to cut two Los Angeles County sheriff's deputies during an altercation in Artesia Sunday night.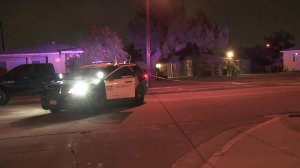 The deputies responded to the 11900 block of Droxford Street when someone reported a "suspicious person in a vehicle" just before 9:30 p.m., according to a news release from the Sheriff's Department.
The same man later abandoned the SUV in the front lawn of a home and was seen fighting with an unknown person before walking away from the area, witnesses told the Sheriff's Department.
Deputies arrived and located the man, who they say was uncooperative and physically attacked the deputies.
During the fight, deputies attempted to use a Taser on the man, but it was not effective, according to the release.
Eventually, the man armed himself with a knife and cut two of the deputies on their hands, according to the Sheriff's Department.
The deputies opened fire, striking the man at least one time in the upper body.
The 49-year-old man was taken to a local hospital, where he was pronounced dead.
His identity has not been released.
The deputies were taken to a local hospital to receive treatment for their injuries.