This is an archived article and the information in the article may be outdated. Please look at the time stamp on the story to see when it was last updated.
A man who was allegedly armed with a knife when he was fatally shot by at least one California Highway Patrol officer near the 10 Freeway in Santa Monica has been identified as a suspect wanted in the attempted homicide of his roommate, sheriff's officials said Tuesday.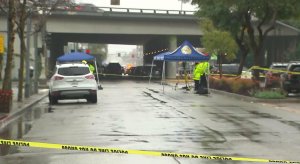 Gerardo Vasquez, 52, was wanted by the Simi Valley Police Department after his roommate was stabbed last Friday, Feb. 3, the Los Angeles County Sheriff's Department said in a news release. After the stabbing, Vasquez fled the scene and was considered armed and dangerous, according to sheriff's officials.
The roommate, who has not been identified, survived the attack. Simi Valley police said at the time that he was a 32-year-old man who was left in critical condition, in a medically induced coma.
The victim was released from Los Robles Hospital and Medical Center in Thousand Oaks on Wednesday, and is continuing his recovery at home, according to Simi Valley Police Commander John Parks.
Police said the stabbing may have been "unprovoked." The knife used in the stabbing was not located, Simi Valley police said last week.
CHP officers caught up with Vasquez a few days later, about 12:20 a.m. Monday after receiving calls about a man walking along the 10 Freeway near Centinela Avenue in Santa Monica, sheriff's officials said.
Responding officers found Vasquez armed with a knife at the center median. Vasquez ran across lanes as officers approached him and eventually ran off an embankment and onto surface streets leading to an officer-involved shooting in the 3300 block of Pico Boulevard in Santa Monica, according to LASD Lt. Joe Mendoza.
After the shooting Vasquez fell onto his side and allegedly yelled an expletive at officers, asking "if that is all they had," a sheriff's news release stated.
Officials said Vasquez raised a large knife over his shoulder and was in the process of throwing the knife toward the officers when a second officer-involved shooting occurred, sheriff's officials said.
The knife landed near where the officers were standing and was later recovered, officials said.
One officer also used a less-lethal shotgun to fire bean bag rounds at the Vasquez.
The sheriff's release stated the death appeared to be a "suicide by cop incident."
No officers were injured in the shootings.
The shooting remains under investigation by the Los Angeles County Sheriff's Department Homicide Bureau.
Correction: A previous version of this article incorrectly stated that the roommate was killed in the stabbing and that suspect was wanted for murder. In fact, the roommate survived, and the suspect was wanted for attempted murder. The post has been updated.