This is an archived article and the information in the article may be outdated. Please look at the time stamp on the story to see when it was last updated.
A man involved in a family disturbance call and a motorcycle pursuit Thursday afternoon was fatally shot after allegedly threatening deputies with a handgun when they caught up to him at his Hacienda Heights home later in the evening.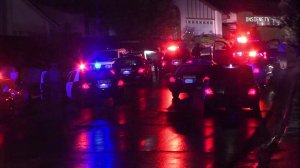 The events began about 1 p.m. when Downey police responded to the disturbance call of a man armed with a knife and a gun who was threatening to kill family members, the Los Angeles County Sheriff's Department stated in a news release.
The subject of the call sped off on a motorcycle when officers arrived and took to the 5 Freeway before disappearing from the view of pursuing officers, the Sheriff's Department stated.
Investigators found the man hours later at his home in the 15600 block of Windrush Drive in Hacienda Heights and officers approached him about 9:45 p.m., according to the news release.
The man was uncooperative when the officers tried to detain him and warned them he was armed with a gun, according to the Sherriff's Department.
The officers called for backup and Los Angeles County Sheriff's Deputies arrived at the scene in an attempt to get the man to comply with orders.
Following a standoff of about an hour, the man allegedly began to reach for his gun about 10:49 p.m. and deputies opened fire with less than lethal weapons.
The man still did not comply and armed himself with the gun before deputies opened fire, striking the man, the Sheriff's Department stated.
The man was pronounced dead at the scene and a handgun was recovered.
No deputies were injured in the incident.