This is an archived article and the information in the article may be outdated. Please look at the time stamp on the story to see when it was last updated.
A man who authorities say commandeered a Sheriff's Department patrol vehicle and started driving toward deputies was fatally shot Tuesday night.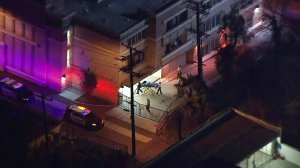 The deputies were sent to the 5000 block of East 3rd Street about 10 p.m. after someone reported a Hispanic adult acting suspiciously and looking inside vehicles in the parking structure of an apartment complex, the Los Angeles County Sheriff's Department stated in a news release.
When they located the man, he appeared to be hiding from the deputies, so they got out of their vehicle to investigate, the Sheriff's Department stated.
As they were attempting to detain the man, he ran past the deputies and toward their vehicle.
One of the deputies fired a Taser at the man in an attempt to stop him from commandeering the vehicle, but the Taser was ineffective.
The man put the vehicle in drive and drove in the direction of a second deputy, the Sheriff's Department stated.
That's when at least one of the deputies opened fire, striking the man in upper body.
The man, who has not been identified, died at the scene.
No deputies were injured in the incident.
Anyone with information was asked to call the Sheriff's Department at 323-890-5500. Those who wish to remain anonymous can call "Crime Stoppers" at 800-222-TIPS (8477).