This is an archived article and the information in the article may be outdated. Please look at the time stamp on the story to see when it was last updated.
A 27-year-old man found dead from a gunshot wound outside a Home Depot was likely shot elsewhere and brought to the location, Upland police said Tuesday.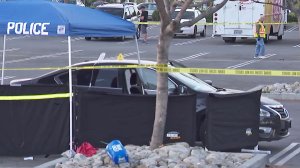 Authorities received a call about 1:39 a.m. reporting a shooting victim in the parking lot the Home Depot located at 250 South Mountain Avenue.
Officers and medical personnel arrived and found the 27-year-old victim in the parking lot, Upland Police Department Lt. Cliff Mathews said.
He was pronounced dead at the scene, Mathews said.
Investigators later determined the man was shot at a nearby location and not in the parking lot.
"In fact, this location has nothing to do with the crime," Mathews said.
Mathews could not give the exact location of the shooting but said it was "not too far" from the scene.
The victim's identification was not released, and it was unclear if he was a resident of Upland.
Detectives are talking to people described as associates who were with the victim, Mathews said.
Anyone with information was asked to call the Upland Police Department at 909-946-7624.