This is an archived article and the information in the article may be outdated. Please look at the time stamp on the story to see when it was last updated.
A man accused of fatally shooting a 22-year-old worker outside a South El Monte business was taken into custody by deputies after being pinned to the ground by the victim's co-workers on Monday, authorities said.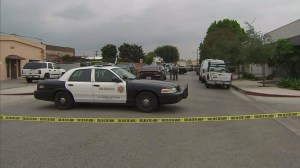 Shortly before 8:30 a.m., a man rode up on a bicycle to the Baby Blue Fashion, Inc. business in the 9600 block of Alpaca Street and contacted a man inside, according to Lt. Steve Jauch of the Los Angeles County Sheriff's Department.
After the victim went outside, the man brandished a handgun and shot the employee multiple times, Jauch said.
The victim, who was pronounced dead at the scene, was later identified by friends and family as Hijinio Jimenez Gonzalez, 22.
Deputies arrived at the scene to find several of the victim's co-workers holding down someone "who had just shot an employee at a nearby business," said sheriff's Lt. Steve Jauch.
They wrestled the alleged shooter to the ground after hearing the gunshots, grabbed the man's firearm and held him down on the ground until deputies arrived.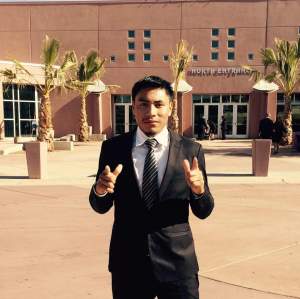 The man, who yet to be identified, was then taken into custody. He was transported to the sheriff's Temple Station, where he was booked on suspicion of murder, according to a sheriff's news release.
"I just think it's a heads up move on their part. You've got a man who opens fire on one of their co-workers. They heard the shooting, they responded, they came outside, took him to the ground, held him down until deputies arrived," Jauch said.
He added that their actions "may have prevented further violence."
The relationship between the gunman and the victim was not known, Jauch said. However, the victim's female coworker had children with the shooter.
It was not immediately known if they were together or estranged.
"The status of their relationship is, we don't know," Jauch said.
The victim's co-workers will be interviewed as part of the investigation, he added.
Anyone with information about the case is urged to call the Sheriff's Department's Homicide Bureau at 323-890-5500. Those who wish to remain anonymous can call Crime Stoppers by dialing 800-222-8477 or by using the website lacrimestoppers.org.
Family members have set up a GoFundMe account to pay for funeral costs.