This is an archived article and the information in the article may be outdated. Please look at the time stamp on the story to see when it was last updated.
A man who stopped at a Riverside gas station to put air in the tires of his bike was ambushed and fatally shot Sunday night, according to a witness.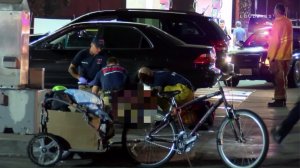 Police received several calls about 9:19 p.m. reporting a shooting had just occurred behind a gas station located in the 7400 block of Indiana Avenue, the Riverside Police Department stated in a news release.
Responding officers found the victim, who has not been identified, suffering from several gunshot wounds.
He was taken by ambulance to a local hospital, where he later died from his injuries, according to the Police Department.
A witness told KTLA the victim was putting air in his bike's tires when he was ambushed by a gunman who got out of a car.
It was unclear if the shooter got back into the vehicle or fled on foot after the shooting, Lt. Dwayne May said.
No weapon was recovered at the scene and no description of the gunman or the vehicle was immediately available.
Detectives are hoping surveillance video from the store will provide further details about the shooting.
A social media group reported officers were involved in the shooting, but police say that is not the case.
"Unfortunately a Facebook community group or page reported falsely that this was a fatal officer-involved shooting by Riverside police," Officer Ryan Railsback said. "None of our officers fired their weapons for any reason while here."
The location where the shooting took place was described as a well-known gang area but it was unclear if the shooting was gang related, May said.
Anyone with information was asked to call the Police Department at 951-353-7213 or 951-353-7103.