This is an archived article and the information in the article may be outdated. Please look at the time stamp on the story to see when it was last updated.
Authorities are searching for whoever fatally shot a man as he was riding on a bike path in Paramount Wednesday evening.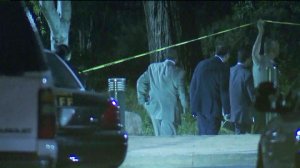 Deputies responded to a shots fired and gunshot victim down call on San Juan Street near the Los Angeles River about 5:40 p.m., the Los Angeles County Sheriff's Department stated in a news release.
They discovered a male Hispanic in his 40s down on the bike path who was suffering from what appeared to be gunshot wounds. The victim was pronounced dead at the scene.
"This appears to be a man who was riding his bicycle down the bike path and was senselessly murdered," Sheriff's Department Lt. Derrick Alfred said.
The victim has not been identified, but he did live in the area, Alfred said.
No suspect description was available and no witnesses to the shooting have come forward, however, investigators are trying to determine the level of involvement of at least three people who were seen leaving the area.
"There are people out there that I'm sure know who did this," Alfred said while asking the public for help in solving the case.
Investigators have found some surveillance video from the area but nothing that covers the bike path where the victim was killed, Alfred said.
The shooting did not appear to be gang related but was still under investigation, Alfred said.
The incident occurred not far from where another fatal shooting took place on Texaco Avenue about 10:30 p.m. Tuesday.
"So that is two murders in two nights in the Paramount area. … At this time we're not ready to say that they are related but if we do determine they are related of course we will put that information out," Alfred said.
Anyone with information was asked to call the Sheriff's Department at 323-890-5500. Those who wish to remain anonymous can call Crime Stoppers at 800-222-TIPS (8477).