This is an archived article and the information in the article may be outdated. Please look at the time stamp on the story to see when it was last updated.
A man died after he was stabbed  in a commercial neighborhood along Compton Boulevard on Monday morning, authorities said.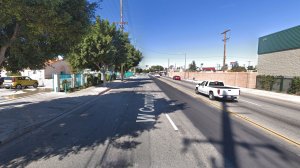 The fatal attack took place about 9:15 a.m. in the 1800 block of West Compton Boulevard, just east of Central Avenue, Deputy Kimberly Alexander of the Los Angeles County Sheriff's Department Information Bureau said in a written statement.
He became involved in an altercation with another man prior to being stabbed in the upper body, officials said.
The victim, described only as a man, was taken to a hospital, where he succumbed to his injuries, she said.
No description of the attacker was available.
"The motive for the crime is unknown," Alexander added.
Anyone with information was asked to contact the Sheriff's Homicide Bureau at 323-890-5500. Tips may also be submitted anonymously to L.A. Regional Crime Stoppers at 800-222-8477.