This is an archived article and the information in the article may be outdated. Please look at the time stamp on the story to see when it was last updated.
A man stabbed his wife to death with a machete during a fight early Saturday and wounded three of his neighbors who tried to come to her aid, officials said.
Police and firefighters responded to the Villa Roscoe apartment complex at 14841 Roscoe Blvd.  just before 2 a.m.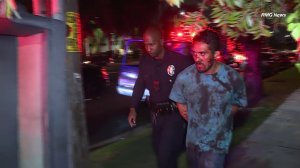 They found a woman stabbed to death in the courtyard, Los Angeles Police Department Detective Mike Kozak told KTLA.
Her husband surrendered to authorities and said that he and his wife were fighting when the attack occurred, Kozak said.
A family of three who attempted to help the victim were also wounded in the stabbing, according to officials.
One of the surviving victims, described as male, was hospitalized in critical-but-stable condition, police said. The two others, described as a male victim and a female victim, suffered injuries not believed to be life-threatening. Their ages were not available.
Video from the scene shows the handcuffed suspect with his face bloody being led to a patrol vehicle.
The machete believed to have been used in the attack was found at the scene, police said.
A motive in the deadly attack had yet to be determined, Kozak said.
"There doesn't appear to be a party, and I don't see any drugs or alcohol in play, so we're still trying to kind of piece this together," he said. "It will be a while before we really figure it out."
The suspect's identity was not available Saturday afternoon. He was taken to a hospital prior to being booked into jail.
The identity of the woman killed in the stabbing was not released pending positive identification and notification of family by coroner's officials.
No further details were available.