This is an archived article and the information in the article may be outdated. Please look at the time stamp on the story to see when it was last updated.
Authorities were searching for a man who robbed a jewelry store in Walnut on Sunday afternoon and made off with a high-priced Rolex watch before getting away.
At about 3:15 p.m., the male entered Hang Wa Lee Jewelers, which is located at 1569 S. Fairway Dr. (map), and took the Rolex, according to Sgt. B. Yoell of the Los Angeles County Sheriff's Department.
A security guard opened fire on the man, but he was able to flee the scene, Yoell said. Blood was found near the store, although authorities were not able to confirm whether the thief had been hit by any bullets.
He left in a silver car that was waiting nearby and driven by another male, according to sheriff's Lt. David Bucker.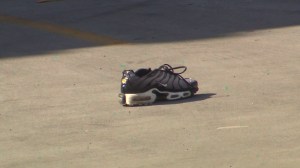 Video from the scene showed a shoe had been left behind outside the store.
The Sheriff's Department responded after an off-duty sheriff's deputy heard the gunshots and reported the incident, according to Yoell.
Detailed descriptions of the man wanted in connection with the stolen Rolex and the driver of the vehicle were not immediately available.
No further details have been released.
KTLA's Feven Kiflegiorgis contributed to this story.