This is an archived article and the information in the article may be outdated. Please look at the time stamp on the story to see when it was last updated.
Police are searching for Glendale pastor who they say matches the description of a man who stood outside a hotel window in Covina watching two minors for more than 30 minutes before forcing his way inside the room and sexually assaulting one of the girls.
The incident occurred about 8 p.m. Wednesday at the Vanllee Hotel and Suites in the 1200 block of East Garvey Street, the Covina Police Department stated in a news release.
A man seen on surveillance video drove through the hotel parking lot until he saw a lit room with the drapes open and then parked his truck facing the interior of the hotel room, the Police Department said.
The man began to masturbate in the truck while watching two girls inside the room who are part of a tourist group from China and are between the ages of 10 and 12 years old, Lt. Ric Walczak said.
The man then got out of the truck and stood outside their window for more than 30 minutes, apparently pretending to be on the phone and looking into the room, before finally walking through the lobby and knocking on girls' door.
One of the girls opened the door thinking the man was their chaperone and he proceeded to force his way inside, the Police Department stated.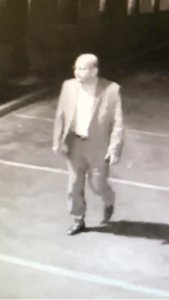 Once inside the room, the man allegedly sexually assaulted one of the minors before returning to his truck and driving away.
The man in the video was described as a man with a stocky build, balding with hair around his ears, a short beard and prescription glasses.
He was wearing a tan/brown suit with a blue and white striped shirt.
The man was driving a newer model black or dark-colored Dodge 4500 Ram truck with a flat bed and a large metal ramp for a tail gate.
Police Friday evening said Douglas Rivera, of Baldwin Park, matches the description of the man in the video.
Rivera, 40, is a pastor at a church in Glendale called God's Gypsy Christian Church, a video on the parish's website showed.
Rivera is also listed on the church's contact page.
In a video posted online, Rivera said he was at the "wrong place at the wrong time" and that there is "no truth to the allegations."
"Something happened in that hotel, and that is the simple answer," Rivera said in the video. He added that he was going to "jail" Wednesday with a lawyer to turn himself in.
"I love you Los Angeles. Please keep me in prayer," Rivera said.
Anyone with information can contact the Police Department at 626-384-5621 or call Crime Stoppers at 800-222-TIPS (8477).