This is an archived article and the information in the article may be outdated. Please look at the time stamp on the story to see when it was last updated.
A man appeared to be forcibly taken into custody Tuesday after leading California Highway Patrol officers on a short chase from Newhall to Sun Valley.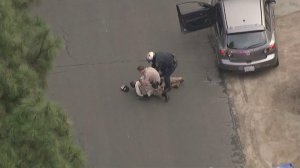 The pursuit began in the Newhall area along the southbound side of the 5 Freeway, according to CHP.
A motorcycle officer was seen chasing the suspect before another unit joined the pursuit in the San Fernando Valley, aerial video from Sky5 showed.
The man then got off the highway into a residential neighborhood and pulled over.
After stopping, two officers appeared to forcibly remove him from the vehicle, then made him get down on the ground, the Sky5 footage showed.
He was then placed in handcuffs, according to the video.
It is unclear why the pursuit began.