This is an archived article and the information in the article may be outdated. Please look at the time stamp on the story to see when it was last updated.
An investigation was underway Thursday after a man was found dead in his Long Beach apartment, authorities said.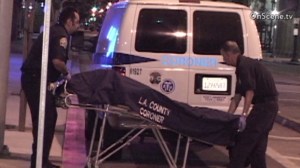 The body of 42-year-old Rob Ames was discovered Wednesday by a maintenance worker at the Lofts at Promenade. Ames' mother, after not hearing from her son for two days, had called the building and asked that someone check in on him.
Long Beach police responded to the fourth floor apartment located at 210 E. Third St. Homicide detectives and Los Angeles County coroner's officials were also summoned to the scene.
It was not immediately known how Ames died. An autopsy was expected to be performed Thursday.
A neighbor said a party was held Tuesday on the fourth floor of the building, although it was not clear if had Ames attended.