This is an archived article and the information in the article may be outdated. Please look at the time stamp on the story to see when it was last updated.
A 51-year-old man was found dead Sunday morning after a fire ripped through a home in Wilmington, authorities said.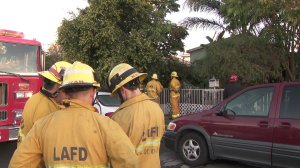 About 5:15 a.m., firefighters were called to 1025 E. Robidoux St., where they found fire burning in a single-family home, according to the Los Angeles Fire Department.
Nearly 40 firefighters put out the flames in about 40 minutes.
The man, identified by coroner's officials as Manuel Ysais of Wilmington, was found dead in the home.
Read the full story on LATimes.com.