This is an archived article and the information in the article may be outdated. Please look at the time stamp on the story to see when it was last updated.
Homicide detectives were combing for clues in Anaheim after a man was found dead Tuesday night on a residential street, police said.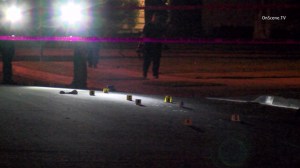 Officers responded to the 1900 block of West Embassy Avenue upon receiving a call regarding a man found lying in the middle of the roadway, according to Lt. Eric Trapp of the Anaheim Police Department.
The unidentified man was pronounced dead at the scene.
It was not immediately clear how the man had died, Trapp told reporters at an early morning news conference at the crime scene. Anaheim police detectives and traffic investigators were still searching for evidence in the area as they pieced together what led to the man's death, he said.
Trapp initially stated it was possible the man was killed in a hit-and-run.
"When you find a body laying in the street, we're going to leave all possibilities open," he said. "So whether it was a traffic collision, or hit-and-run, or homicide, we're going to leave all those options open. "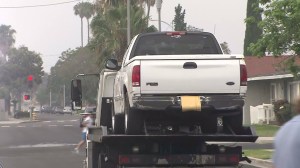 He later said the crime was being investigated as a homicide, and that the man had possibly been dragged along the street by a vehicle.
According to Trapp, a "vehicle of interest" was found in the 200 block of South Agate Street, which is located several blocks from where the man's body was discovered.
Authorities later towed a white Ford 150 truck with a dent on the side, though it was not immediately clear if that vehicle was related to the investigation.
He described the neighborhood where the incident occurred as being "very quiet," adding "something where this would be out of the ordinary to happen here."
Police were hoping witnesses would step forward and provide information to investigators about the man's death. Anyone with information has been asked to call Orange County Crime Stoppers at 1-855-847-6227.