This is an archived article and the information in the article may be outdated. Please look at the time stamp on the story to see when it was last updated.
A man was found dead and a woman was injured during a shooting outside a Long Beach apartment Wednesday, officials said.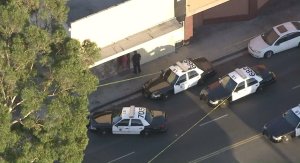 The incident was reported about 4:35 p.m. when shots were heard in the 5400 block of Atlantic Avenue, Long Beach Police spokeswoman Marlene Arrona said.
The victims were found outside a residence and the man was declared dead at the scene. The woman was taken to a hospital in unknown condition.
Police said a man was taken into custody in connection with the shootings.
Aerial video from Sky5 showed police cars converging at the scene after the shooting. Officers were interviewing possible witnesses and spectators gathered to watch the investigation, the video showed.
No further details were available.
KTLA's Matt Phillips contributed to this story.